Price: £39.99
Available from:
Tesco, Argos, Amazon
Suitable from:
12 months +
Initial Reaction: A lovely traditional looking Winnie the Pooh Bear. Couldn't wait to get him out of the box.
Pros:
Lovely and cuddly.

Just the right size for a 1 yr old to carry.

Programmable by parents to match their own child's individual routine.
Cons:
Takes a little while to programme, as you have to go through every bit of your child's routine and put in the times (bed time, meal times etc.)

If your child isn't in a set routine Winnie the Pooh won't match every day.

Winnie will suddenly pipe up and say something when you aren't expecting it. I made the mistake of putting him to bed with Brandon the first day we got him. After Winnie tried to get Brandon to play Hide and Seek when he should be sleeping he was moved back downstairs (Winnie, not Brandon).You can programme the evening sleep, but I didn't realise that Winnie randomly came to life lol.

Although Winnie will not "play" when your child has bedtime, he will snore really really loudly if your child accidentally rolls onto him. It didn't wake Brandon up, but did wake me up every time I heard it over the monitor.
Value for money? Ok
Overall Reaction: Winnie is a lovely toy. Although he can't sleep with Brandon & still occasionally frightens me when I hear his "old man" voice calling I would still buy him. Brandon loves him.
By Sarah
Light Strike Assault Striker with Mini Target

Electronic guns, Action at the speed of light.
Price: £40
Available from: Amazon, All good retail stores, for full range visit Lightstrike.com or wowee.com
Suitable from: 8+
Initial Reaction: Oh, my boys were absolutely over the moon to receive the light strike set and couldn't wait to get them out and start a battle.
Pros: Lots of play value, sturdy, volume control switch
Cons: No batteries included, each set requires 4xAA for the assault striker and 3xAAA for the strike target, so that is a lot of batteries needed before you can start.
Value for money? Very good value, I was quite surprised and expected the set to be more expensive.
Overall Reaction: Overall, we were really pleased with the light strike, the boys play with these every day.
By Cherilyn
Lego Sort and Store Head.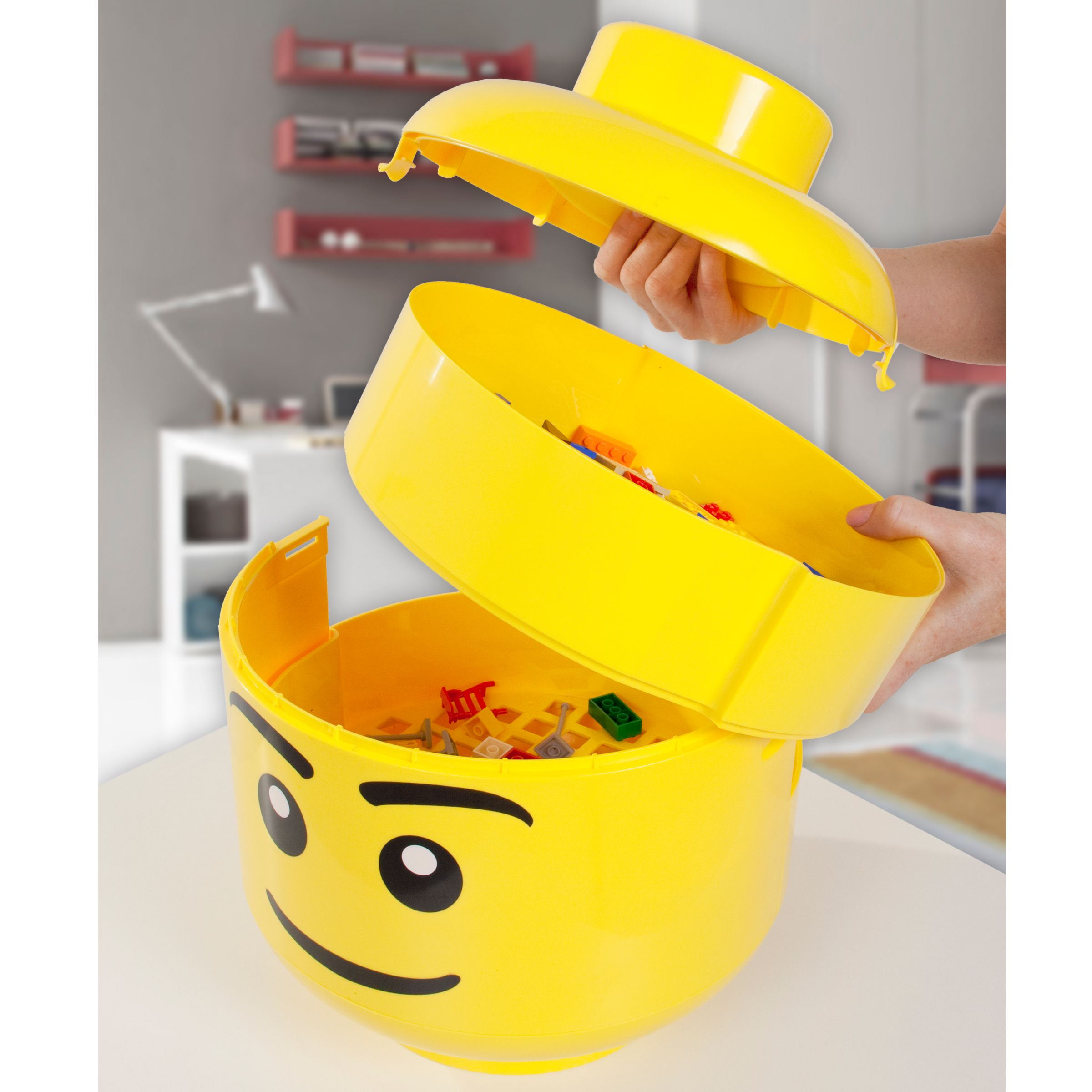 Price: £39.95
Available from: John Lewis.
Suitable from: 4
Initial Reaction: When we opened the package to reveal the giant Lego head my children were very excited. It is about the size of a real head and exactly like the heads on the Lego people. My son couldn't wait to get his Lego organised. Pro's:
Brilliant for storing loads of Lego , which is great because most kids end up with a large collection.

A real talking point. We had some dinner party guests in the week after we got it and they noticed it and had to have a look.
Con's:
It's a little bit fiddly to put together as the drawers inside have to be correctly inserted and the top of the head has to be in exactly the right place to close it snugly.
Value for money: I have to admit I do think this is a little expensive. I'd be happier to pay around £25 for it.
Overall Reaction: A really unique way of storing Lego. Also sorts the bricks into small, medium or large for the more serious Lego collector (I can imagine in a few years, when he has a larger Lego collection my son will be more interested in this feature). It looks great in the children's bedroom and I'm sure will be used for many years to come.
By Ella
Lite Sprites Tree of Life
Price: £39.99
Available from: Amazon (£29.99), Smyths (£27.99)
Suitable from: 4 +
Initial Reaction: Quite a large sized tree with lots to do. The Tree of Life holds up to 4 Lite Sprites (not included), it comes with 1 lite pet, 4 flowers, child's ring and interconnecting path. The Tree lights up and you can swap colours with the sprites, it also has a manual lift and spins Pros:
Lots to do

Good size

Great for imaginative play
Cons:
Doesn't come with a lite sprite

Lift is a little flimsy
Value for money? Can get expensive as the sprites start from £14 and you don't get one with the tree.
Overall Reaction: BG has lots of fun playing with this tree; we were sent some lite sprites so we can test it out properly. BG liked hanging the sprites to canopy and spinning it around. There is quite a bit to keep them entertained and the best bit is swapping the colours.
Price: £39.99
Available from: Argos
Initial Reaction: BG was very excited about trying this out.
It comes with a built in cover, its own pump and carry case
Pros:
Lightweight

Inflates in under 2 minutes

Easy to store away

Surprising comfortable to sleep in
Cons:
Cover is not warm enough, you need an extra blanket
Value for money? I think this is expensive for what it is.
Overall Reaction: The ready bed was easy to inflate and use. BG likes sleeping in it and we have taken it with us on overnight trips. Would be great on a camping trip or sleep over.
By Carol
Charm Bracelet from Kit Heath Kids

Price: Bracelet with two charms from £39
Available from: Kit Heath Kids
Initial Reaction: We were sent a charm bracelet with two charms on it. They are made from sterling silver with enamel designs. BG was overjoyed to have a bracelet of her own
Pros:
Well made

Pretty

Bracelet is quite strong, BG hasn't broken it yet

You can add beads to it
Cons:
Value for money? Can get expensive especially if you want to spell their name out. .
Overall Reaction: This was the first piece of proper jewellery BG was given and she loved it. At almost 3 she is starting to understand that you have to take care of things. It's a lovely gift idea and you can keep adding to it.
By Carol